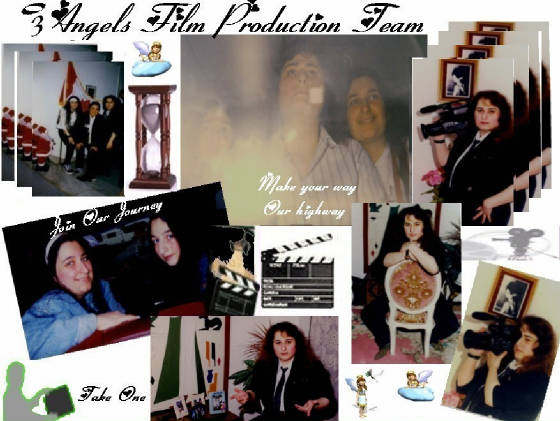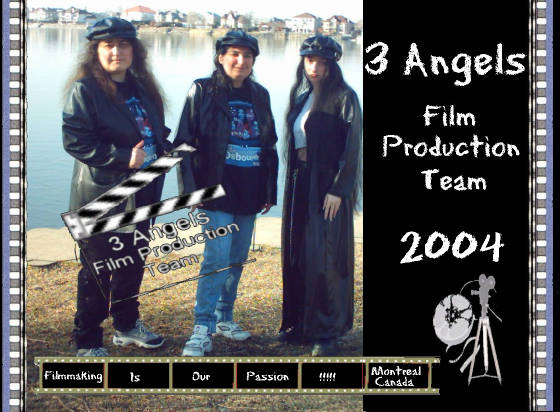 Welcome
to our heaven of creation, and paradise of filmmaking!
The 3 Angels Power Film Production INC lives in A world of creative arts, and glory. If you have the desire in becoming a star in your own sky, make your way our HIGHWAY! The prime objective for this webpage is to discover true talented people, and allow them a chance to participate in making independent movies, and help out in workshops. We are giving an open invitation to all who believe in independent filmmaking. Are you talented enough? Well, our team is looking for people who have passions for films. The 3Angels are looking for students , writers, producers, and new faces to join our force of creativity. However, if you have a question, a comment, or just need an advise, look for the 3Angels, and feel the power. Live the adventure of a new challenge! This site is yours, and for all the creative souls out there! We welcome all of you into our world of creation, and constant action. You may email us with your favourite links, unique pictures, special articles, and creative graphics to make this site valuable, and resourceful.
You may always contact us to find out more information about new projects in process.. Writers and Co producers, talented people, and new faces are welcomed to join our journey of filmmaking.

Nowadays, we are trying to form a team of volunteers in order to make a low budget movie with a high quality.We are currently seeking to meet and develop a working relationship with other producers, screenwriters, new faces, students or any individuals who are interested in making a movie. We are also in search for sponsors, agents or anyone who believes in filmmaking. So, will you give a hand of help to make something out of nothing!!!! Let's get creative, and make a movie.. The 3 Angels believe that nothing is impossible, and everything is possible. If you are interested just let us hear your honest thoughts a.s.p..
Remember,
We are The 3 Angels,
Movies Are Us!
With a simple screen test, you will be a star overnight, and become the glowing candle in the fans dark night. Live forever, and never say never. Live on film forever that others will always treasure.
SORRY WE DONT ACCEPT ANY CALLS but...
Are you serious enough to consider our projects, and accept the challenge? Would you like to share the glory of becoming part of the 3 Angels journey? If your answer is YES, email us, and we will take every word you say into consideration. The Angels will reply as soon as possible. Stay tuned, and youll definitively hear from us.
Email the 3 Angels.
Email us NOW!
We'll be more than glad to answer any of your questions or accept any comments. Keep shining like a star.
Let the 3 Angels power Of Three set you free.
Make your way our highway. Join our forces, and become a star in your own sky. Let the camera roll that we can film you all. Come and take a look, we are just like an opened book. We live in a world of creations filled with no certain destination. Take your first step, and ENTER! You will find a world of wonder. Your first step is 3mn long screen test with intensive close training. Do not be afraid to take a chance, and give our creativity a simple glance. Let the show begin!!!
The 3 Angels highway is filled with many golden opportunities such as; a screen test , original photo shoot, original scripts, ideas, special training, an up, and close direction of two separate scenes on location. The 3 Angels are willing to work with professionals, new faces, students , and even amateurs. Our production team is about to find the perfect cast for our first feature film in Montreal. Take a chance, and discover how talented you are. Roll the dice! All paticipants will be kept on file but only few will be asked or called for a special appearance in this movie.
Give the hand of help to make magic.
Take another look!!!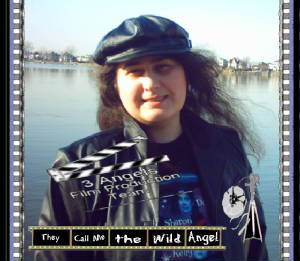 Read what we write... Become a critic.
We are called The THREE ANGELS. I, and my younger sisters form a film production team. We work together side by side.

Each one of us is also given a title. I myself is called The Wild Angel / free like a horse in the prairie. People say, I fight like a warrior from an ancient time. JD (the second Angel) is called The Sweet Angel / A melody that heals the soul in a time of need. She is someone who has a big heart, and a great taste of music. Mona Lisa (The third Angel) is called The Devilish Angel. She is highly fashionable, and creative. Mona Lisa might rock your world with a simple touch. I guess were not just Charmed, were the lucky ones!!!
We traveled around the globe, and discovered the true meaning of Home!!! That's why, we are back in Montreal now. The 3 Angels feel that it is time to start a new journey of filmmaking, and nurture our career by producing independent features for the big screen.
Join Our Journey!
Look For The Angels, And Feel The Power.
Do what you love, and
you will love what you do!
It's simple; we turn hard labor into fun. Filmmaking is not an easy task. It requires patience, and hard working. But if youre doing what you love, you'll no longer feel the pain. At the end fame, and glory are what you'll gain. I guess that is our little secret!!! It doesnt really matter whether if youre standing behind the camera or in the front. The result is beyond belief.
The Press, oooooooooh
The press is the spot light. It could be red or white. You would easily guess the rest. If you like to be the center of attention, and the focal point of others, you might consider ACTING! That is one of our hot tips. If you are highly creative, and talented, filmmaking should be on the top of your list.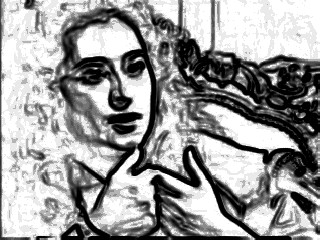 Behind the scenes
The main story is quite very simple. I grew up with a burning desire to capture reality on film. Over the years, photography, 8mm, poetry, movie scripts, and short story writing were my only means to express the meaning of life. My two younger sisters followed my lead until we formed a remarkable team. Jeanne darc, and Mona Lisa are highly talented. Obviously, each one of them has what it takes to be a star. Meanwhile, mom has the potentials for a fashion model. Eventually, we all complete each other, and form rather an unusual team of work.
My father was known for Dior Of The East, he was a fashion designer for ladies.
We've seen the world. The 3 Angels visited Lebanon, Kuwait, Egypt, Syria, USA, France, and many other countries. We lived our lives on the cutting edge, and battled on just like Xena , the Warrior Princess. In 1992, The 3 Angels decided to take a new challenge, and travel across the ocean to visit the Arab World. Our mission was to capture other countries cultures, and traditions on tape. We moved from one location to another like birds. The Angels filmed several documentaries overseas to represent, and reflect the differences in societies. We covered important issues that might help nations come closer. Traveling from one place to another gave us the opportunity to see new faces, and admire new places. The 3 Angels learned many things along the ride. Our journey of film production in the Middle East was unforgettable. The past few years were unbelievable! The 3 Angels felt the power in the air, and flew like birds in the sky.
If you are a sincere fan of the Egyptian stars, click on Ahmed Mazhar's pic, and you'll be linked to a rare collection of special pictures taken by the 3 Angels Film Production Team on the set of Hollywood Of the East.
Our Favorites
Favorite Band or Musician: Backstreet Boys, Ssync, Bon Jovi, Fozzy.
Favorite TV show: Charmed, X.Files, Xena Warrior Princess, Buffy, Angel, Gilmore Girls, 7th Heaven.
Favorite Soap: Days Of Our Lives, All My Children, General Hospital, and Passions.
Favorite movie: Liar Liar, George of the jungle, Scorpion King, Scooby Doo, Spy Kids, Hush, Casper.
Favorite book: WWE Biographies
Favorite sports team: WWE Wrestling
Favorite food: Fries, Tabouleh, and Fatoush.
What we love doing the most!!!
Movies... Script Writing too..
The 3 Angels Power Film Production INC has many skills.. We love doing anything that has to do with MOVIES...Including reading or writing movie scripts, and poetry.
The Most Admired people in our lives!!!!
Our Parrents
We're being powered by a magical source of love (Mom And Dad).
Mom and dad give us a happy life, and constantly offer us the world. They accepted to back up our dreams when they became our managers. Mom and Dad supervise our projects, and support what we believe in.
Mom & dad are our shadows everywhere, and the fresh breath of air that we take to grow. They taught us that LOVE IS THE WAY. The 3 Angels owe them everything.